July 2020
I hope you and your family are keeping well, but as the restrictions are eased, do be careful as sadly this ghastly disease has not yet gone away. 
At BMMHS, we have had to give some serious thoughts and discussions as to the future and direction of the Society, as whilst we are keen to get back to normal as soon as we can, we recognise that the safety of you, our supporters and friends, is paramount. 
Therefore let me outline where we are and the conclusions we have reached:-
a. Our Village Hall talks  With some of our supporters falling into higher risk categories coupled with the current guidelines,  the physical restrictions within the Woodcote Village Hall such as  keeping adequate social distancing but also ensuring sanitising of surfaces and toilets etc, we have decided that the earliest we shall resume talks in the Village Hall will be January 2021.   While this is disappointing for many of you and for us too, we have to be cautious and feel this is the only decision we could make. 
We also will have to take due consideration of circumstances nearer the time, but there is every possibility that we shall have to start these talks with considerably fewer attendees, and probably without refreshments especially buffet  food,   We will currently explore and determine what we can or cannot do as the end of the year gets closer.   We will keep you fully appraised of developments as we head towards the end of the year.
Please be completely clear however, we are very keen to get back to these talks as soon as is feasible, and we still have a full agenda of speakers and talks lined up and booked through 2021 to the middle of 2022.
b. Zoom meetings…On a positive note, I am delighted to report that we have held a successful pilot virtual Talk via Zoom, given by our friend and committee member Dr.Linda Parker.   A couple of minor technical glitches aside, these were well received and enhanced by a Q&A after each one.
The BMMHS team has also made the decision that we shall hold twice monthly Zoom talks from August until the end of the year.  Most speakers and talks are already booked, some being those who could not give their talks as planned in the Village Hall as well as some other new faces. Topics will include a WW1 flying ace, the sinking of the Italian Fleet in 1940, the disaster at Slapton Sands in 1944 and the Italian Campaign in WW2.  We do hope you will join us for these talks.
In addition to this, we are considering  holding some additional Zoom talks in 2021 (as well as the main Village Hall talks). This will allow us to give a broader range of topics and speakers for you,    providing we get a good attendance. 
We will be asking for a donation of £5 per Zoom talk, or £20 for 5 talks or £40 for 10 talks for the Zoom talks in 2020 to cover our costs of license fees, speaker costs etc.   Details of how to pay will be detailed on the website.  These monies will help the society to keep going.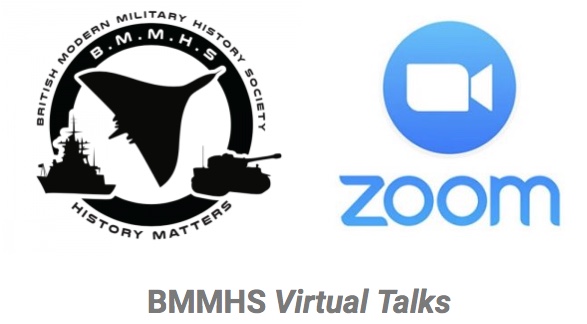 c. Operation Bookworm…we have had a great response to the request for articles and recollections for our charity book in aid of the charity Blind Veterans UK (formerly St Dunstans).
So far over 120 contributors and over 200 articles with just a few more promised to come in.
We shall now start the process of sorting, sifting and editing before approaching potential publishers. We would expect publication some time next year.
A big thank you for all you who have supported us and made a contribution – a brilliant and fascinating range of topics and experiences. They are all for a very good cause.
One request… if any of you wish to help out with proof reading etc when the time come, all assistance will be appreciated.  Do get in touch on info@bmmhs.org
d. Membership Scheme   Something we are considering is whether we should start a membership scheme for BMMHS. With the likelihood of reduced attendee numbers for the Village Hall talks where it will mean some people will be disappointed when they cannot get a seat, we wonder if there would be an appetite for having guaranteed a seat in return for a six or 12 monthly subscription.   We would always keep some seats available for those people who want to book as they do today.
Proposals are still in the embryonic stage and no decisions have yet been made.
We would welcome your feedback and experience of such schemes
We are all looking forward to getting back up and running again as soon as we safely can, and please do join us for the BMMHS Zoom talks… it is a great way to hear talks from the comfort of your own living room or study.   We can give help to those of you not familiar with Zoom.
Stay safe and well.
Best wishes
Andy
Andy Cockeram
Chairman, BMMHS
Copyright © 2019 bmmhs.org – All Rights Reserved