Welcome to the British Modern Military History Society
Welcome to the British Modern Military History Society.  Formed in early 2019, we organise monthly talks for anyone interested in military history over the last 200 years from Nelson's times to the present day.   
With top quality talks given by writers, academics, former military personnel, and experts in their field with a wide variety of topics, we are based in Woodcote Village Hall RG8 0QY (near Wallingford) in South Oxfordshire.   We can accommodate up to 100 people at each talk in pleasant surroundings, offering a warm and welcoming evening out.
COVID-19 has put the meetings in the hall on hold for the time being. We are looking to resume when guidelines permit and it is safe to do so. In the meantime twice monthly Zoom Talks are currently scheduled during 2021.
Our schedule of monthly meetings and talks range from El Alamein, the Battle of Britain,  the Suez crisis and much more – something to appeal to everyone.  Check out the full programme and talk details on the website or our Facebook pages. 
BMMHS History Talks via Zoom
We shall continue a monthly Zoom talk and look to resume live meetings as soon as we can and it is deemed safe to do so. However with the uncertainty over COVID and the restrictions, the meetings we have organised may revert to Zoom talks. Check out the schedule of events for the exciting list of talks and meetings for the 2021 season. Please continue to check this website as events may change at short notice.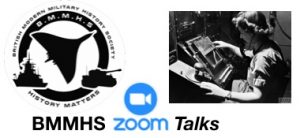 Dr Helen Fry
MI9, the British Directorate of Military Intelligence Section 9, was a department of the War Office between 1939 and 1945. During World War II it was tasked with supporting available European Resistance networks and making use of them to assist Allied airmen shot down over Europe in returning to Britain. MI9 infiltrated agents, usually by parachute, into occupied Europe. These agents would link up with a Resistance cell and organize escape-and-evasion efforts in a particular area, usually after being notified by the Resistance of the presence of downed airmen. The agents brought false papers, money and maps to assist the downed airmen.
The usual routes of escape were either south to Switzerland or to southern France and then over the Pyrenees to Spain and Portugal. The group also facilitated the escapes of British prisoners of war both out of the prison camp and out of occupied Europe. It also communicated with British prisoners of war and sent them advice and equipment.
Members of MI9 included Airey Neave and Michael Bentine.
BMMHS is helping to raise raise £1,000 to help support blind veterans through the COVID pandemic. Isolation amongst the elderly and visually impaired is an issue that communities across the UK are struggling to resolve and so help us raise funds for the Blind Veterans UK National Creative Project.
A compilation of military stories and eyewitness accounts to raise funds for Blind Veterans UK
Glimpses of War is in Aid of Blind Veterans UK
In 1982, the Falklands War came to an end after 74 days of bloody battles and Argentina surrendering. 255 British servicemen lost their lives and many more were injured, including blind veteran Terry. Terry was on board the HMS Antrim and, while attempting to fight a fire onboard, lost his sight when he was targeted by an airstrike.
Terry is one of many who recounted their experiences in Glimpses of War – a collection of wartime stories in aid of Blind Veterans UK. Find out more or download a free chapter about the Falklands War.
"I am delighted that the BMMHS has taken this initiative to record eyewitness accounts during the Lockdowns. For historians, first hand accounts are the building blocks of good story telling and to do so with fund-raising for BVUK in mind is doubly pleasing."
"Highly recommended... from across the different wars of the 20th century comes this unique collection of inspirational narratives of human endurance, daring exploits, fighting spirit and sheer heroism"
An inspired and fascinating historical collection. Powerful first-hand accounts of individuals' courage and tenacity in the face of conflict over the decades.
'I am deeply honoured that my great grandfather Percy Statton, who was awarded the Victoria Cross in 1915, is remembered in Glimpses of War and for such a great cause.   I hope this volume and the subsequent ones raise lots of money for BVUK.'
"BMMHS are to be congratulated on the timely publication of this first volume of Glimpses of War. It was a pleasure and privilege to be involved in this fascinating project, together with one of our former patients and to support the valuable work of Blind Veterans UK."
'The breadth and range of this volume convey, as few others have, the comprehensive awfulness of war across the generations, and the effects it has on those directly involved, indirectly involved and on its periphery.'
'What a marvellous time — during the many privations of 'lockdown' — to ask us all to turn out our family archives and contribute to the BMMHS's first publication. And no better charity than Blind Veterans UK to receive any profit from this great initiative.'
"The BMMHS has found a splendid way of supporting BVUK by making readily available memories and research that might otherwise have disappeared."
"The International Guild is delighted to support this venture by BMMHS as a contribution to the preservation and sharing of historical knowledge."
'Those of us who study, and maybe write about, military history deal with reports, statistics, dates, strategies and outcomes. It is, however, the human story, such as those we have here in Glimpses of War, that give flesh to the bones of our research. I consider it a privilege to have contributed to this current volume. It is made all the more appropriate that proceeds will be directed to Blind Veterans UK since I too am a blind person.'
"This is a fascinating selection of material which covers many facets of war and military service - and it is published for such a good cause. Congratulations all round."
This is a great read ..can't wait for the next in the series...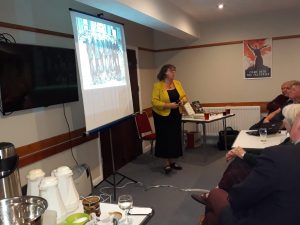 BMMHS Information
Chairman's Summer 2021 Update & Return to Village Hall Meetings Click for details
Read More »
BMMHS Information
Friday 23rd July 2021 18:30 pm BMMHS members  are welcome to attend any of the Friends of Millbank talks, they are all virtual this year.
Read More »
BMMHS Zoom Talks
Tuesday 14th September 2:00pm Click above for talk details Afternoon Zoom Talk: The 2nd Mounted Division at Gallipoli The Balaklava of the Dardanelles Ian Binnie
Read More »
Our Last Talk and New Articles
What you are saying about BMMHS
"It was a lovely evening and fantastic atmosphere in the room. Very happy to come back in 2021 to speak on my (then) new book on MI9 escape and evasion."
"For anyone interested in Military History, the BMMHS is a must. The monthly meetings cover a wide range of topics, with high quality speakers giving thought-provoking talks. In addition, the quality of facility and refreshments is exceptional, and the audience interesting and welcoming. Highly recommended."
"Just wanted to say how impressed I was by the talk last night and indeed by the meeting itself – the first I've been able to attend.  An excellent speaker and a well organised meeting!"
"…. We're very impressed with the line-up of talks arranged for the next year and will endeavour to attend as many as possible …. We found the 'Arnhem' talk most interesting – a very different 'take'  on the topic from the usual battle on the ground analysis. Congratulations to you, Nigel, Linda and the team, you're doing a great job."
"If I may say so, the BMMHS's first few months have been most impressive and a testament to the hard work and enthusiasm the four of you have put in. Everything on Wednesday went well, turnout, seating, notice-boards, drinks and especially the food!
"
"…I would like to thank you and your team for another great evening. The talk was brilliant… looking forward to the next one…"
"MANY THANKS for Wednesday night most enjoyable, met some nice chaps, have new dates on the calendar, looking forward to the next talk"
"As with the first BMMHS meeting I attended.... I really enjoyed last night's presentation. You and your pals have done a great job in getting the BMMHS set up and running smoothly & efficiently, including an excellent website plus arranging for some really interesting presenters and subjects every month."
"A most amazing lecture. To say it was interesting is understating it - it was mind-blowing to think of the courage of those women, who agreed to be SOE agents, despite knowing what awaited them if they were found out. It was fascinating to hear what training they went through, and to learn what some of them did and how they ended up. Many thanks for another brilliant lecture"
" If you are like me, and you enjoy the study of a wide range of military history topics, with a bit if a twist, then BMMHS will be right up your street. With its informative panel of expert speakers and on occasion quirky topics, there is something for everyone interested in learning more of their military past. I can thoroughly recommend the BMMHS zoom talk experience. You won't be disappointed!"
Copyright © 2021 bmmhs.org – All Rights Reserved