Welcome to the British Modern Military History Society
Welcome to the British Modern Military History Society.  Formed in early 2019, we organise monthly talks for anyone interested in military history over the last 200 years from Nelson's times to the present day.   
With top quality talks given by writers, academics, former military personnel, and experts in their field with a wide variety of topics, we are based in Woodcote Village Hall RG8 0QY (near Wallingford) in South Oxfordshire.   We can accommodate up to 100 people at each talk in pleasant surroundings, offering a warm and welcoming evening out.
COVID-19 has put the meetings in the hall on hold for the rest of 2020. We are looking to resume when guidelines permit and it is safe to do so. In the meantime twice monthly Zoom Talks are scheduled for the remainder of 2020 and into 2021.
We have a full schedule of monthly meetings scheduled throughout all of 2021 and into 2022 on El Alamein, the Battle of Britain, the Cold War, the Falklands and much more – something to appeal to everyone, we hope.  Check out the full programme and talk details on the website or our Facebook pages. 
The Women of SOE – A cool and lonely courage
by Dr Kate Vigurs.
Hear the story of their recruitment and training of 39 women who were chosen to work in a secretive, clandestine and mainly male domain, Special Operations Executive, French section (SOE F). Ranging from housewives to grandmothers, shop assistants to countesses, they were taught: silent killing, instinctive shooting and sabotage as well as survival tactics for life in Nazi Occupied France. 
They were infiltrated behind enemy lines to work as couriers and wireless operators, operating undercover and beyond the protection of the Geneva Convention.
Life expectancy was short, sometimes a mere six weeks but these women worked and fought hard – often living in solitude with no friends or company; travelling hundreds of kilometers carrying vital yet incriminating information; receiving arms or vital supplies and risking everything to make contact with SOE HQ over the radio waves.
BMMHS Events & Zoom Talks 2021
BMMHS is currently putting together its schedule for the first part of 2021.  We shall continue a monthly Zoom talk and look to resume live meetings as soon as we can and it is deemed safe to do so. However with the uncertainty over COVID and the restrictions, the meetings we have organised may revert to Zoom talks.  Check out the schedule of events for the exciting list of talks and meetings for the 2021 season. Please continue to check this website as events may change at short notice.
Click above for the BMMHS Events 2021
Operation Bookworm Update
With the COVID10 pandemic putting our meetings on hold due to lockdown, we invited our members and supporters to send in articles about the wartime experiences of their own and their families – any war, any role, whether military or civilian. All net proceeds will go to the charity Blind Veterans UK  (formerly St Dunstans).  
We have had a fantastic response with over 120 contributors sending in over 220 articles and over 300,000 words. Various historians have also given their support providing their own articles and book extracts too. Some contributions have been a couple of paragraphs, others 3-4 pages. The range of topics has been remarkable from the diaries of an officer on the Western Front in WW1, to life as a Far East POW and others living through the Blitz  in WW2 to experiences serving in the Falklands, Northern Ireland and Iraq. Articles have come in from across the globe including the USA, Australia, Poland, the Netherlands, France and elsewhere.
We are now moving into the phase of sorting, editing and reviewing all the content before approaching potential publishers in the autumn. We are hoping to see publication in the first half of 2021.
For all of you who have sent in contributions, a very big thank you. They have made for amazing reading, with some telling of great heroics, some of the grim realities of war, some of remarkable tales of survival and other of ordinary people just 'doing their bit'.  A real melange of tales giving a wide picture of wartime experiences.
 A sincere thank you to you all.
"Helping us all through the Great Isolation"
Click above for talk details The Women of SOE – A cool and lonely courage Dr Kate Vigurs
On This Day: GERMAN U-BOAT CAPTURED BY RAF AIRCRAFT ARRIVES IN PORT. SEPTEMBER 1941, BARROW. The German U-boat alongside her berth, after capture by RAF aircraft. The A/A gun did not fire a shot when engaged by the RAF Hudson, which led to the surrender of the U-boat. © IWM A5664 https://t.co/ovAx9s3suv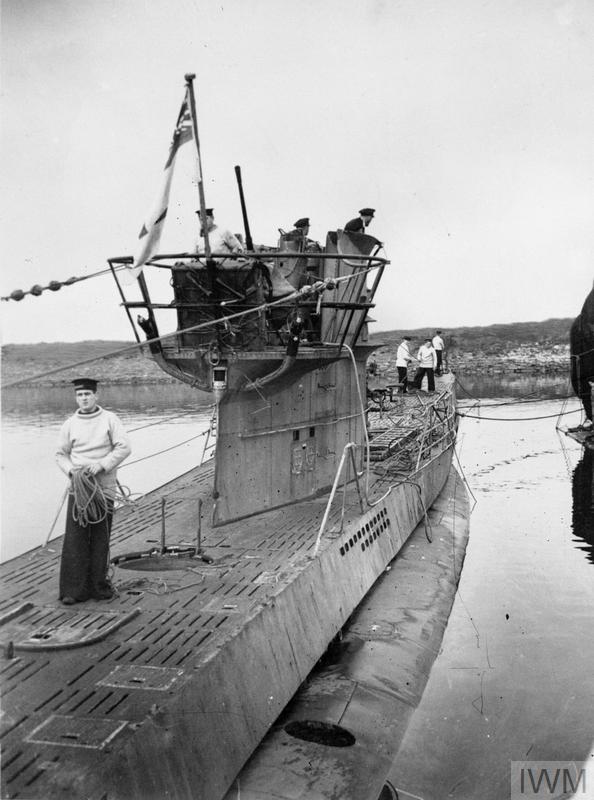 What you are saying about
"It was a lovely evening and fantastic atmosphere in the room. Very happy to come back in 2021 to speak on my (then) new book on MI9 escape and evasion."
"For anyone interested in Military History, the BMMHS is a must. The monthly meetings cover a wide range of topics, with high quality speakers giving thought-provoking talks. In addition, the quality of facility and refreshments is exceptional, and the audience interesting and welcoming. Highly recommended."
"Just wanted to say how impressed I was by the talk last night and indeed by the meeting itself – the first I've been able to attend.  An excellent speaker and a well organised meeting!"
"…. We're very impressed with the line-up of talks arranged for the next year and will endeavour to attend as many as possible …. We found the 'Arnhem' talk most interesting – a very different 'take'  on the topic from the usual battle on the ground analysis. Congratulations to you, Nigel, Linda and the team, you're doing a great job."
"If I may say so, the BMMHS's first few months have been most impressive and a testament to the hard work and enthusiasm the four of you have put in. Everything on Wednesday went well, turnout, seating, notice-boards, drinks and especially the food!
"
"…I would like to thank you and your team for another great evening. The talk was brilliant… looking forward to the next one…"
"MANY THANKS for Wednesday night most enjoyable, met some nice chaps, have new dates on the calendar, looking forward to the next talk"
"As with the first BMMHS meeting I attended.... I really enjoyed last night's presentation. You and your pals have done a great job in getting the BMMHS set up and running smoothly & efficiently, including an excellent website plus arranging for some really interesting presenters and subjects every month."
Our Last Talk and New Articles
An article by Chris Leworthy

Copyright © 2020 bmmhs.org – All Rights Reserved